MAIN and MOUNTAIN BAR & MOTEL "BEST NEW HOTEL" YANKEE MAGAZINE, 2019
Total transformation of an outdated, dilapidated motel that the owners bought at a real estate auction on Sunday afternoon. They were shocked they won the bid and immediately called Joanne to help them out. Together they turned a tiny lobby and manager apartment into a hip and happening bar and updated the guest rooms and bathroom rooms to be contemporary and inviting. This place used to be called All Seasons and it sits on Main Street in Ludlow, Vermont, just down the road from Okemo Mountain, the ski area. So hence the awesome new name, Main and Mountain, Bar and Motel. Notice the Bar comes first...that is because is has the most amazing lounge/bar in town. We turned a tiny lobby and the managers apartment in a fabulous space for everyone to enjoy. We are even turning the overgrown front lawn into a hangout spot, with gas fireplace and an old cast iron fence that used to be in a cemetery — because we're funky like that. The hip boutique motel and bar have been a huge hit since the day it opened and has been featured in numerous publications, including the Wall Street Journal, Outside Magazine, Country Living Magazine, Vermont Ski and Ride Magazine and picked by Yankee Magazine's New England Editors as the 2019 Best Hotel in Vermont, Photos by Lindsay Selin.
LAWSON'S FINEST LIQUIDS TAPROOM and RETAIL STORE "BEST VERMONT BREWERY" VERMONT SPORTS BLACK DIAMOND AWARD 2019
Joanne has worked with Karen and Sean Lawson on three projects, the largest one being their newly constructed Taproom and Retail Store. Joanne worked closely with the owners, architect and builder to create an interior design layout for the bar and retail space as well as the overall look and feel, including finishes and the unique seating spaces throughout the taproom. Challenges included creating the right flow for seating and ordering (for a very busy space) and having seating for groups and individuals alike, which allowed us to create bar seating, chairs by the fireplace (near the kid's play area), four top tables by the windows, and the higher two-tops by the bar, beer hall picnic tables and the bar rail. The retail store we added whimsy with a wood patterned sun on the front of the counter — a nod to their famous beer, Sip of Sunshine, and a light fixture made from their bottles. Many local products were used in the design including custom lighting, furniture, stone, marble and tile. Photos by Alana Cushman.
BASIN HARBOR and BOAT CLUB
For the past five years, Joanne has been the designer for Basin Harbor and Boat Club, a historic resort on the shores of Lake Champlain. This family-owned resort (five generations) has been creating memories for families since 1886. With over 700 acres of amazing property, 73 cottages, dozens of lodge rooms, restaurants, pub, stunning gardens, hundreds of water and land activities, golf course and much more—there are lots of spaces that need update, and each year a few spaces and cottages are chosen for updates. Joanne's design goal throughout the spaces, whether it's the lobby, a cottage, a lodge room or public spaces, is to keep the charm and character, while updating and making it fresh. Creating a design brand through colors, fabrics and products that reflect who Basin Harbor is and what it means to their visitors, Joanne finds unique items as well as works with local craftsmen to create custom bedding and more. She incorporates other design and decor touches ensuring guests' comfort that are standards of excellence into today's modern hospitality industry conveniences. After pictures by Joanne Palmisano, Susan Teare and Orchard Cove Photography.
PIZZA 44
When Tim Williams and Doug Neede (BFF's for 44 year— hence the name) decided to open up a counter service wood fired pizza restaurant they contact Joanne right away. Joanne had already created the interior design for two of Tim's projects Archie's Grill and The Scoop. With an empty warehouse space, Joanne knew she wanted warm woods, natural touches, live plants, vintage pieces, custom seating, modern lighting, paneled walls… a perfect rustic modern blend for this counter service wood fired pizza space. The interior design started with creating comfortable custom booth seating, a community table, cozy couch areas and bar seating to watch the pizza making, ensuring every square inch was accounted for and the flow of the space was comfortable and welcoming. Instead of trying to cover up the old warehouse details, they were incorporated into the design. A pipe painted black with wood tucked into it, and couple more vintage brick columns were added to highlight the ones that were already there. Old concrete walls were paneled in modern stained square plywood pieces. Unique lighting, vintage pizza peels and other special touches, such as hand painted striped booth tables, have made this counter service restaurant an instant hit. Photos by Lindsay Selin.
BEAR MOUNTAIN INN, MAINE "COUPLES CHOICE AWARD" WEDDING WIRE
Total renovation of an historic inn in the lakes district of Maine. The Bear Mountain Inn is located in Waterford, Maine on the edge of a beautiful lake and hundreds of acres of forest and trails. The new owners, Julie and Brian Sullivan, wanted to update the inn and surrounding spaces to give it a more cleaning, chic, cozy space with character. This renovation project — a combination of simple decorative changes to some structural changes and additions is now approachable, hip, and a relaxing place for today's modern traveler while still keeping the charm of the country inn. With Maine and the natural beauty of the surrounding area at its central theme, this clean/minimalist unique lodging experience will accommodate families, couples, friends, and the younger crowd alike. Photo by Molly and Victoria of Molly and Victoria Company.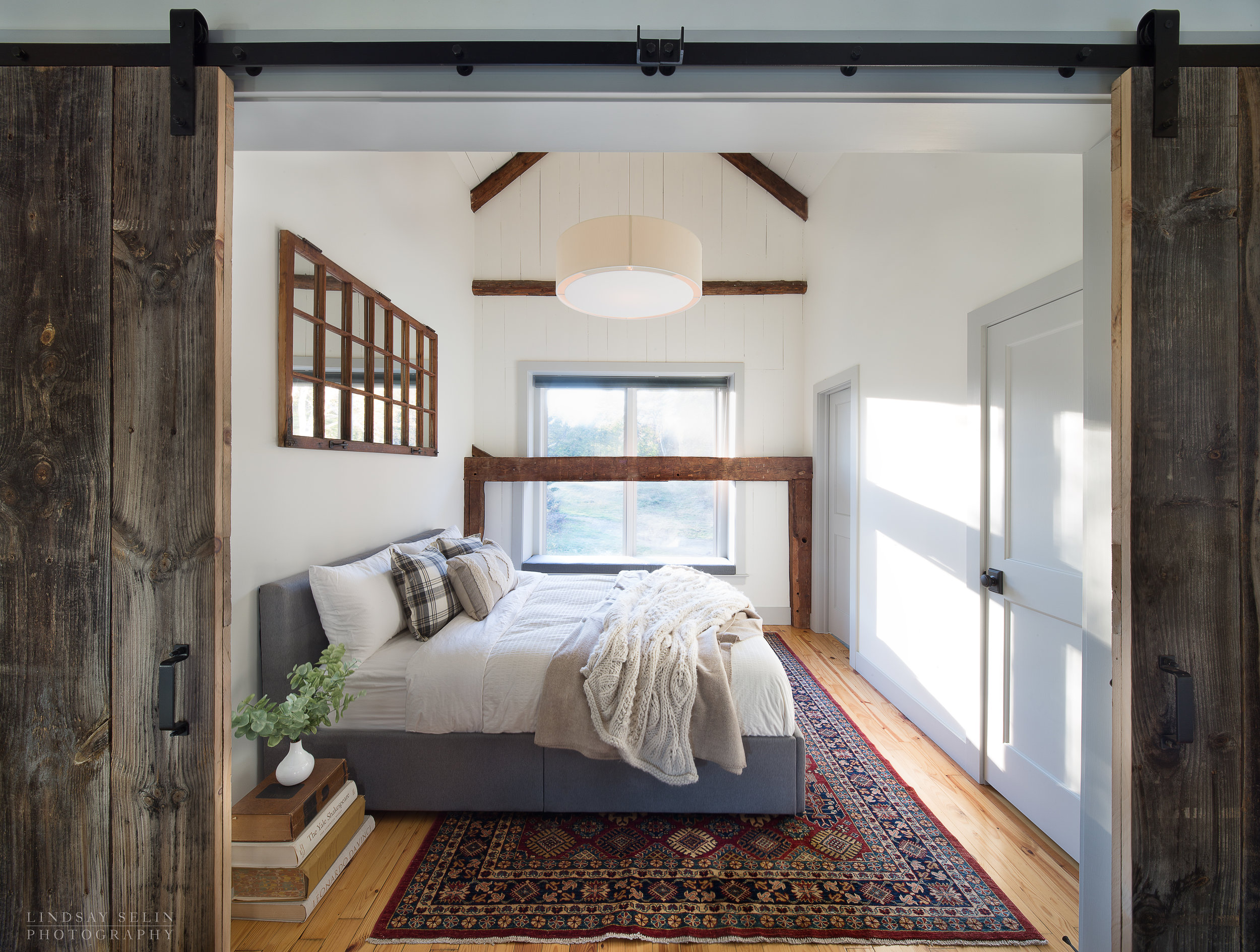 PRIVATE VACATION HOME "BEST INNOVATION RESIDENTIAL AWARD" EFFICIENCY VERMONT
Joanne was asked to be the interior design for a renovation project of an old barn in Southern Vermont that was an outdated camp. With extensive renovations, the details of the barn's post and beam structure now stands proudly in this home away from home. This small mountain retreat, once an old small barn, now a beautiful vacation home, is just one example of Joanne's ability to highlight the old while bringing in the new. Lighting up the walls, exposing the beams, bringing in warm metals, such as the copper lights, modern fixtures, and classic tile, this small vacation home, around 1000 square feet, is filled with rustic sophistication. Mixing classic with reclaimed, new with salvaged, Joanne shows us that we can change the way we design and bring in old in a new way. Photos by Lindsay Selin.
MAD RIVER BARN, INN, RESTAURANT, and PUB
When the owners purchased Mad River Barn Inn, they had been following Joanne's work and knew they wanted to hire her for their extensive renovations of their guest rooms, lobby, restaurant, pub and game room. They wanted "rustic farmhouse with a touch of industrial". Much of the original furnishings and fixtures were repurposed to get that industrial feel. The fun restaurant sign was made from old plumbing handles found in the Barn. Lights in the restaurant were hung from ladders found. The shelving behind the front desk is a vintage chicken coop. Virtually nothing was thrown away in the renovation. Recycled bathroom sinks and turkey feeder light fixtures are just a couple of the features guests love. The owners were thrilled that the perfect balance between retention and modernization. Named one of the top ski destination to stay by Outside Magazine and a mentioned as a great place to stay with a modern aesthetic by Travel and Leisure. Photo by Susan Teare
VACATION RENTAL RENOVATION
Total renovation of a home to create an updated and inspiring design that would be inviting and appealing to the short term vacation rental market. This house was purchased by a developer who wanted to create a vacation rental property. This project is Joanne's third vacation rental with the same owner and he has given her free reign to create a look and feel for the project that not only fits with the aesthetic of the property and area but within the budget necessary to create an income generating property. This short term rental property, which was once an outdated Gothic home with dark walls and red carpets, is now a gorgeous and inviting property with old world charm. Joanne used materials that would not only stand the test of time but fit within the moderate budget for the project. Joanne's latest book, Rock Your Rental, coming out Winter 2020, is geared toward this vacation rental and boutique hospitality market (inns, B&B's, motels and similar lodging locations that want some easy design ideas and marketing tips. Photos by Lindsay Selin.
Collaboration Work with TruexCullins Architecture and Interior Design
MOUNTAIN MODERN MOTEL, JACKSON HOLE "GOLD KEY AWARD FOR EXCELLENCE" BOUTIQUE DESIGN MAGAZINE
Joanne enjoys collaboration work with design and architectural firms. The amazingly talented folks of TruexCullins Architecture and Interior Design asked Joanne to be a key member of their design team for a motel redo in Jackson Hole. (Formerly known as The Painted Buffalo Motel.) This project was right up Joanne's alley-- budget-friendly project with fun and funky ideas, including reusing some of the materials already in the building. Topographical maps, a large sink in the bathroom to create a tiny home feel, and a palette of grey, white, red and natural wood and metal accents create an experience more than they do a design…perfect for today's adventure traveler. Functional open closet spaces, engaging word searches and informational sayings on the walls along with giant photo wall murals — every decor piece serves a purpose. Community tables with plugs, maps, fireplace and lounge areas are just a few of the details in the lobby and breakfast room. This "basecamp" concept shows the reviving and reinventing of the classic motel guest rooms and lobby spaces. This motel has been featured in numerous publications and won a Gold Key Award for Excellence by Boutique Design Magazine. Joanne has collaborated with TruexCullins on numerous projects and continues to do so. Photos by Ryan Sheets.
VACATION RENTAL TOWNHOUSE
Joanne designed a total budget-friendly transformation of an outdated 1970's Stowe, Vermont townhouse rental property. The kitchen was redesigned to be an open space with bar seating. Many unique design features were added throughout the rooms, such as reclaimed wood walls, updated bathroom vanities with reclaimed wood and recycled sinks, custom made wood shelves with recycled material tiles and reclaimed wood shelving around the 1970's fireplace. These renovation details have helped this property be a top rental in the area as well has be featured in numerous national magazines and publications. Photos by Susan Teare.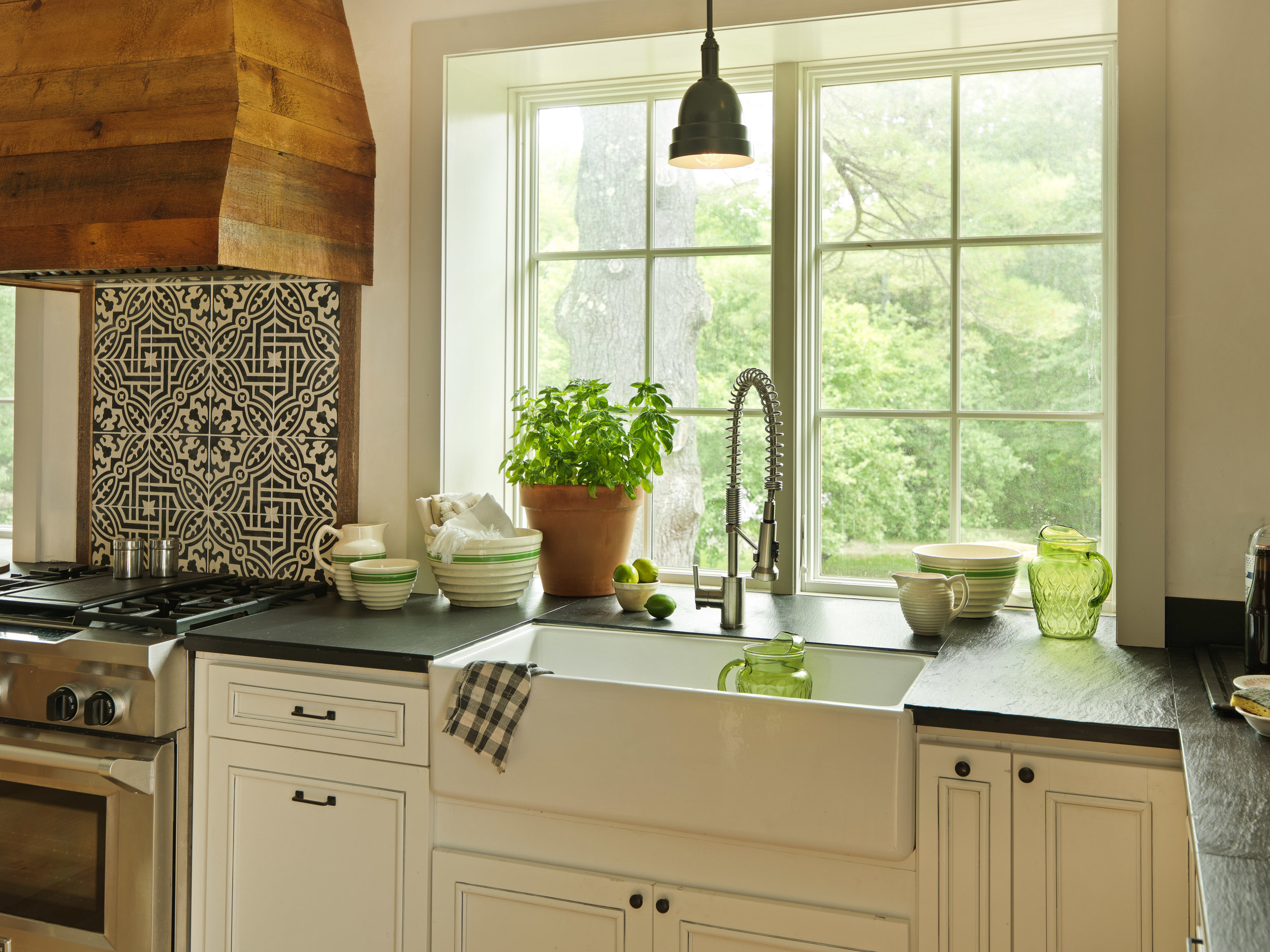 SAMPLING OF OTHER PROJECTS
Joanne loves what she does. It isn't just about a cool design. It is about helping people who really want to bring back to life an old motel, inn or hotel, restaurant or home but don't always have a big budget behind them. This is about people who work for themselves, who work really hard to make things happen in their local community -- who live and work there and want to create their own successful business or enjoy their own home. Joanne believes it is about making a difference in lives and bringing something different to the table.
CONTRIBUTING DESIGNER FOR DIY NETWORK
Joanne has create over 265 unique do-it-yourself (DIY) projects for DIY NETWORK online, including an 8 part video series, Most of Joanne's projects show you how to create something new out of recycled, reclaimed and repurposed materials. From holiday wreaths, to update dressers to entire room redos, Over the past eight years of working with DIY NETWORK, Joanne has created something for everyone. Photos by Susan Teare and Joanne Palmisano.